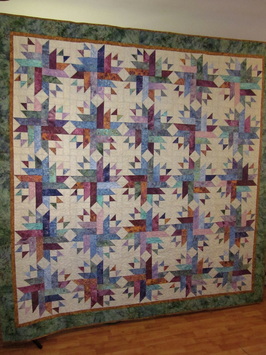 Tah-dah! This is our finished quilt made by the members of our quilter's group, Long Valley Quilters! Each year we raffle off a beautiful quilt with all proceeds going towards a scholarship for a qualified student (or students) at Laytonville Highschool.
The drawing is held in August at our annual quilt show. You do not have to be present, or even a local to win. To enter the drawing, you can come in and buy a ticket at the store or when you see us out in front of Geiger's Market during the month of July. Alternatively, if you are an out-of-towner, please email me your name, address, and number of tickets you'd like, and I will gladly send you some. Just fill out the tickets, and return them with payment and you're ready to go.
The quilt this year is an especially big hit and tickets are going really fast! So come on in and make a contribution to benefit your local community, and enter yourself to win a one of a kind, handmade heirloom.