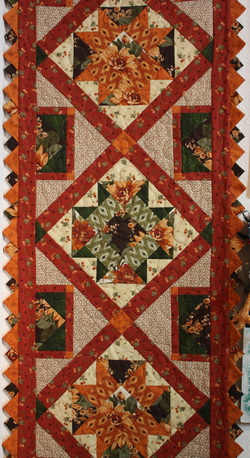 Table topper from the book Rising Star.
Greetings!
I have been keeping an eye on our small little herd of deer that live around the backyard at The Quail. So far it has consisted of two bucks and three doe, but while I was out watering this morning a tiny little fawn jumped up from the weeds and went leaping across the yard! I am keeping a watchful eye to see if there might be more. They drink from the small pond and are happy to share their surroundings with the quail.
Well, back to sewing and quilting! Since I've been back from Quilt Market I have been busy making some new samples featuring many of the new patterns, books, and rulers that I came across. I think you are really going to enjoy these finds. As many of you know I do not easily succumb to new rulers, but I watched a demonstration on the new "Triangular" by Heather Petersen. All her quick techniques are in her new book
Angles with Ease
. I am hooked! I just finished a table topper from the book called "Rising Star." It was quick, painless, and produced a perfectly gorgeous kaleidoscope!
Of course, what are patterns and rulers without fabric? Some new collections arrived this week: Kimberly's Garden is a new 30's retro collection, and there is a free downloadable pattern called Kimberly's Flower Garden Picnic @
www.eeschenck.com
. Christmas fabric is also starting to roll in. Winters Grandeur, is a small collection by Robert Kauffman featuring a beautiful Christmas tree panel, and a new flannel collection by Maywood Studio featuring a new panel that will be featured in a "Christmas in July" class. I also fell for a new collection of batiks called Boho Vibe by Stephanie Prescott who owns a shop called
A Quilter's Dream
. I don't know when she finds time, but she is also a pattern designer and I ended up buying many of her patterns as well! "Ebb & Flow" is one of the free downloads that she is offering using these batiks. Find the pattern at
www.eeschenck.com
.
I know many of you are busy quilting and binding quilts for the various upcoming quilt shows. I hope all of you get out and take time to see all the wonderful talented quilters that live and walk amongst us! I am always in awe when you are kind enough to share pictures of your quilts with me. Now I can get out and see them first hand. Check out the Special Events page for a listing of some shows in the area as well as a printable application for our very own quilt show! Don't forget to visit the Classes page for a complete listing of what's coming up these next few months!
Come on and
drop by to see what's new here at The Quail.
Happy Quilting,
Debbie Bowles