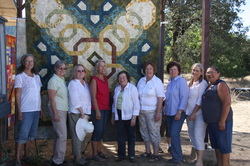 Thanks to everyone who came out and helped to organize and hang the quilt show August 24th and 25th. Our quilt show could not be the success it is without all of your assistance. I thought this year was the best show yet! I am always amazed with all the beautiful and diverse workmanship we have in our little show. It was truly a treat for the eyes.
Our friend and pattern designer, Reets, of Reets Rags to Stitches, visited the show and made a beautiful slide show which she posted on her blog September 4th. Click HERE to read her post and see the terrific slide show.
Reets' blog, "Walk on the Wool Side" is always a fun read and it is a pleasure to admire all the hand dyed delights and fun patterns she creates. I just love the "Lollipop Hill" baby quilt pattern with all the whimsical animals! My new favorite baby quilt for sure.
In other new
s, Ladies of the Lake Quilt Guild, is hosting their annual (and fabulous) quilt show at the Lake County Fair Grounds in Lakeport, October 5th and 6th. This is always a quality show filled with fun vendors, fun people, and exquisite quilts. Bring a picnic for the shady tree filled grove or grab a bite to eat from the delicious caterer, and stay the better part of the day. For more information on this show, visit the
Ladies of the Lake Quilt Guild web page
.
Hope to see you in Lakeport!
Happy Quilting,
Debbie