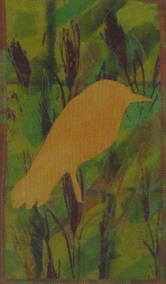 The Long Valley Quilters have decided to host their first annual Community Challenge Quilt event this year. Many quilting groups hold challenges based around a theme, and how the participants decide to interpret the theme is up to them. It is always interesting to see all of the diverse ideas that the participants come up with.
This year's challenge quilts will be centered around the theme of nature. These wall hanging "art quilts" may be no larger than 18 inches by 24 inches, though they may be smaller. Quilts will be displayed and judged at the Long Valley Quilters' annual show held the last weekend in August.
You do not need to be a member of the group to submit a quilt. Anyone is welcome to participate! Forms for submitting an entry to the show will be available on the website (www.thefatquail.com) around May, or by stopping by the shop in Laytonville, 44550 N. Highway 101; 984-6966. The annual outdoor show is always free and everyone is welcome to attend. If you have made any quilts, traditional or art, please consider sharing your work for all to see and enjoy.

Anyone interested in joining the quilt group is welcome. The group meets every third Saturday of each month at the Fat Quail from 10am to noon.