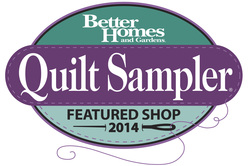 Exciting news! We are pleased to announce that The Fat Quail Quilt Shop was chosen to be featured in the Fall/Winter 2014 edition of
Better Homes and Gardens, Quilt Sampler Magazine!


Come and get your signed copy of the magazine at the Fat Quail's annual outdoor summer quilt show held August 30th 10 a.m.-5 p.m. and August 31st 11a.m.-4 p.m. For just seven dollars, the magazine features eye candy from ten fabulous shops across the U.S., plus 10 great patterns you can use to make your own quilted works of art! Such a deal. Magazines will be available at the store through the winter months.
Check out the details below about this great publication, and click on the links to visit the other shops that will be featured in the Fall/Winter issue.
Quilt Sampler, published twice a year, has been profiling North America's top quilt shops for the past 18 years. Quilt shops submit a detailed application on their history, business promotions, charitable work, teaching schedules and design philosophies. A panel of quilt experts led by Elizabeth Beese, senior editor of American Patchwork & Quilting® magazine, narrows down the applications to 10 featured shops for each issue. The names of the selected shops are kept secret and unveiled at spring International Quilt Market.

Competition to be included in Quilt Sampler is keen. Nearly 3,000 quilt shops are eligible to apply for this year's honor. The Fat Quail and the other nine shops chosen were photographed and interviewed by a team from Quilt Sampler, and a multi-page profile of the shop will appear in the issue, which will be available on newsstands on September 2, 2014. Employees of each quilt shop also design an original quilt for the magazine, and full instructions for the quilt appear in the issue of Quilt Sampler.

Quilt Sampler has proven to be a huge success, and early, out-of-print issues are collector's items. Chosen shops are inundated with visitors and requests for the shop's quilt patterns and fabrics. Quilters are known to try and visit all the shops in each issue, getting the signature of each shop owner in their copy of the issue.

The other nine shops featured in the Fall 2014 Quilt Sampler include: Boersma's Sewing Center in McMinnville, Oregon; Cotton Patch Quilt Shop in University Park, Florida; HeartSong Quilts in Hot Springs, South Dakota; High Prairie Quilts in Parker, Colorado; JonAli Quilt n' Sew in Lake Havasu City, Arizona; Millie P's Quilt Shop in Anoka, Minnesota; Pennington Quilt Works Pennington, New Jersey; Piece by Piece in Appleton, Wisconsin; and Thimbles in Lockport, Illinois.

The art of quilting has changed dramatically since the days of quilting bees in church basements, with quilting enjoying a major renaissance across the country. A Quilting Consumer Insights study, completed in 2011 by American Patchwork & Quilting magazine, reports that the U.S. quilting market is comprised of 4.2 million avid quilters. Further research shows that readers of American Patchwork & Quilting spend an average of $1,165 per year on quilting supplies and complete nearly 11 projects per year. This group is overwhelmingly female, well-educated, affluent, and have been quilting for almost eight years.

For additional information on Quilt Sampler, or for an interview with American Patchwork & Quilting senior editor Elizabeth Beese, contact Lori Eggers at Better Homes and Gardens Crafts Group at 515/284-2874 or at lori.eggers@meredith.com.