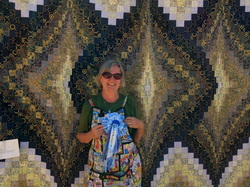 Here we are on the calendar nearing the end of September, entering the first days of fall, with our big quilt show a few weeks behind us and the Falling Leaves Quilt Show in Lake County a few weeks ahead.

This year's Long Valley Quilters Show at the Fat Quail was an excellent one. We had a number of beautiful garments expertly sewn by Sheryln Good of Willits, as well as some wonderful quilts crafted by expert sewers, both machine and hand stitched! Our new art quilt challenge was fun as well. An interesting addition to our show this year was an antique collection of washing machines, owned by Ronnie Crane. The machines, which were fully functioning and demonstrated in action dated from 1896-1930. My personal favorite was a beautiful machine with a copper washing tub. We are hoping to have this incredible display join us again next year! Each year the quilt show is growing, and it's been exciting to witness the evolution and see all the new additions that appear and make our show increasingly dynamic.

As you may know, a non-traditional part of our quilt show is the fact that every year the attendees to the show get to vote on the quilts and select by popular choice, the winners in each category. Our beautiful ribbons were designed and created by hand by a group member, Jody McGeen. They were incredibly exquisite and individual, giving each winner something really special to take home. This year, the local quilters swept the awards categories with the exception of Best Fashion & Accessory Award, which went to Sherlyn Good. If anyone has a picture of her clothing, please send it my way for posting!

Awards went to: Elaine Carpenter, People's Choice for "Argyle", Jody McGeen, Nature Challenge for "Autumn", Kaylynne VanSaun, Quilt I'd Most Like To Sleep Under for "Anything But Blue", Deb Kvaka, Most Whimsical for "Val's Quilt", Nancy Davis, Best Use of Color for "Hartley's Kitties", Nina Morosi, Best Wall Hanging for "Quizzical Swim" and Sheryln Good in the Fashion and Accessory category. Thanks to everyone who entered this year! What a blast!

A big thank you goes out to everyone who was instrumental in assisting with the show, all the ladies (and dear husbands) who put in long hours of work, setup, and clean up. Without your help we could never pull it off, and I am very grateful. Also thanks to the attendees and their enthusiasm and votes! It's always such fun to hear all the positive feed back on the quilts.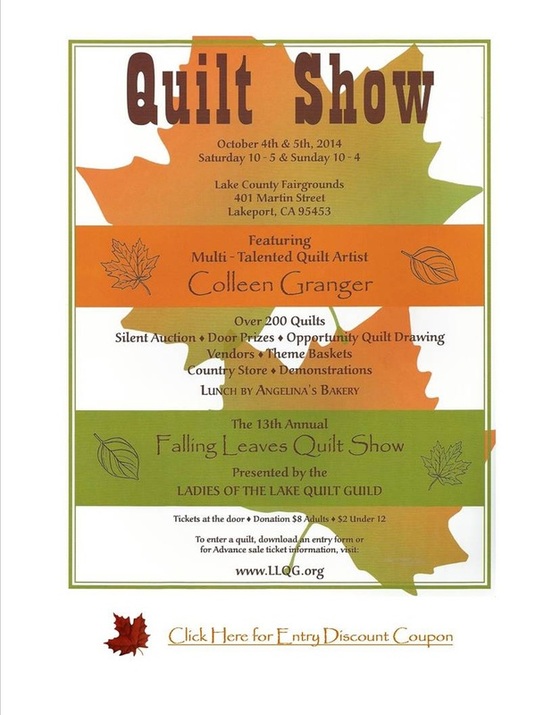 Looking ahead a few weeks to the first weekend in October is the Falling Leaves Quilt Show presented by The Ladies of the Lake Quilt Guild. For anyone who has not been to this show, I have only one word of advice for you: go. You will not be disappointed. Not only are the members of this guild immensely talented, but they are a friendly, kind, group of gals who know how to have a good time. The quilts are diverse, and range from minis, to art quilts, to traditional, to antique, and beyond. I am always impressed by the overall quality of workmanship I see at this show.
I will be there as a vendor this year again, which is always a blast. I will have kits, patterns, books, new fabric, and of course copies of the Better Homes and Gardens Quilt Sampler featuring the shop!

There are some great places to stay in the area, and a lot going on here, so you won't be short for activities. In fact, I recommend if you are coming from some distance, and interested in staying the weekend-get your reservations now! For information, check out the flyer posted above, or click here to go visit their website for more information and to print out a discount coupon for the show's admission. Hope to see you there!