Welcome to the Fat Quail Quilt Shop!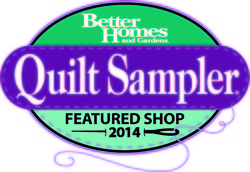 Look for us in the Fall Issue of Quilt Sampler!
Opened in September of 2004, The Fat Quail Quilt Shop strives to provide quality fabric, quilting publications, education, and general artistic inspiration for the beginning through experienced quilter.
As a small business owner, Debbie has worked tirelessly to grow the business over the past seven years. With a background in fine arts and textiles, Debbie's keen eye for design and color has turned this small shop into a quilter's dream. The shop has steadily grown over the years to provide a wide variety of the latest books, patterns, and fabrics the industry has to offer.
The shop's cozy home-like atmosphere boasts four rooms filled with not only current fabrics and quilting necessities, but gorgeous samples and quaint antiques to inspire the imagination.
Debbie loves to create and help others find that perfect pattern, fabric, or book to complete their project. Come discover the bright, friendly, and inspirational atmosphere that is Mendocino County's best stop on the 101...The Fat Quail Quilt Shop!


---
The Fat Quail Quilt Shop
44550 N. Highway 101, Laytonville, CA 95454
707-984-6966
Store Hours: Tues.-Sat. 10-5 Sun.-Mon. Closed