Special Events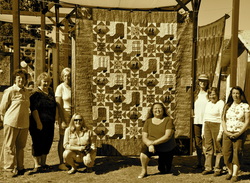 Quilter's Group
Our local guild, Long Valley Quilters-Girls Gone Stitchin', has approximately 10 members, mostly from town, but from as far north as the Eureka area. We meet every third Saturday of each month over lunch to share projects and discuss business, such as our scholarship fundraisers which benefit local students at the high school. New members are welcomed from the surrounding area. Call 707-984-6966 for more information.
Click here for the 2016 Quilt Show Entry Form
.
Area Quilt Shows
Grapevine Quilters Guild
in Ukiah The show's organizers are hoping for a turnout of at least 200 quilts and a group of vendors to delight and satisfy your quilting desires! If you are interested in entering a quilt, this is an open show, so even non-guild members may participate. For more information, go to their website
here
.
Long Valley Quilters-Girls Gone Stitchin
' hosts an outdoor show at the shop in Laytonville, during the last weekend in August. The show features gorgeous quilts from local quilters, refreshments, a "country store" of eclectic gently used items for sale, a raffle of various prize baskets, demonstrations, and the chance to vote for your favorite quilt. The store is also open during this time, so feel free to come inside and browse!
Click here for the 2016 Quilt Show Entry Form.

Ladies of the Lake Quilt Guild hosts an annual quilt show each October at the Lake County Fairgrounds in Lakeport, CA. This year's show will be held October 3rd and 4th. Fine craftsmanship abounds with over 250 quilts, a silent auction, vendors, an opportunity quilt, country store, theme baskets, and more. For more information about the 2015 show,
click here,
then scroll down the page to see some of the beautiful award winning quilts from last year.
Redwood Empire Quilters Guild host the Heart of the Redwoods Quilt Show alternate years, during the month of July. The next show will be held in 2017. Featuring everything from traditional to art quilts to wearable art, there are over 300 quilts are on display, 20+ vendors selling their goods, door prizes, food and beverage, a chance to win their raffle quilt, and free parking. The show is held at the Redwood Acres Fairgrounds in Eureka, CA.
---
The Fat Quail Quilt Shop

44550 N. Highway 101, Laytonville, CA 95454
707-984-6966
Store Hours: Tues.-Sat. 10-5 Sun.-Mon. Closed